Media
GT GOLD DRILLS HIGH-GRADE INTERVAL AT SADDLE SOUTH WITH 9.55 G/T AU OVER 40.89 METRES IN TTD079; CONTINUED EXPANSION OF MINERALIZED FOOTPRINT
September 4, 2018
GT Gold Corp. ("GT Gold" or the "Company") (TSX.V: GTT) is pleased to announce continued rapid expansion of the Saddle South discovery, with new high-grade gold intercepts east, west, south and to depth along 1,000 metres of east-west trend and to 350 metres of north-south width. These new intercepts include: 9.55 g/t Au over 40.89 metres from 534.00 to 574.89 metres in hole TTD079 (estimated 65% true width). Additional assays are pending from Saddle South, and the season's first drill results from the highly anticipated Saddle North prospect are expected in the near future.

Highlights
Hole TTD079 (Saddle South – West Side): 9.55 g/t Au over 40.89 metres1 (390 g/t*m) from 534.00 to 574.89 metres, including:


15.02 g/t Au and 61.10 g/t Ag over 15.12 metres from 559.77 to 574.89 metres, and

24.70 g/t Au and 212.94 g/t Ag over 6.26 metres from 542.17 to 548.43 metres


Continued rapid expansion east, west, south and to depth: Saddle South now encompasses high-grade intercepts along more than a kilometre of east-west strike length (see plan views), and the width of the mineralized envelope as projected to surface has expanded to approximately 350 metres across strike, a considerable increase from the roughly 150 metres achieved in 2017.

Further expansion is anticipated: Strong results from newly completed talus fine sampling carried out immediately south and southwest of trend (6 of 8 samples taken across 240 metres returned greater than 1 g/t Au, with a high of 40.3 g/t Au), and high-grade gold sampled in subcrop in undrilled areas along trend east of easternmost drill hole TTD089, indicate that the Saddle South mineralized envelope remains open for expansion in those directions.

Broad near-surface zone now complemented by deep-seated roots: The high-grade TTD079 results offer further confirmation (see results for previous holes TTD038 (news, November 8, 2017) and TTD069 (news, August 8, 2018)) that the Saddle gold mineralization has deep-seated roots carrying strong grades and strong true widths.
Steve Burleton, President and CEO, commented, "
We are really pleased with these latest drill results. The roughly 41 metres of almost 10 grams drilled in hole 79 is, at 390 g/t*m, among the most impressive intersections drilled this season in the Golden Triangle. Coupled with nearby results, this intercept pushes the mineralized envelope considerably south and to depth on the west side of Saddle South." Mr. Burleton goes on to say: "We are extremely impressed with the work at site as our team continues to increase the size of the mineralized package at Saddle South. New high-grade intersections have been achieved in both directions along strike of the main area of Saddle South drilling to date, and at depth. The discovery core area has expanded considerably in width, and we are encouraged by the fact that many of the intercepts occur over broad intervals, and that these broad intervals commonly encompass high-grade assays. As for Saddle North, where visual indications have been encouraging, we anticipate results in the very near future."
Presented in Table 1 below are assay results from nine NQ-diameter Saddle South core holes, bringing the season's total of released holes from Saddle South to fifteen (holes 65 through 79 inclusive, see news dated August 8, 2018). Drilling is ongoing at both Saddle South and Saddle North and is running ahead of schedule.
1 Widths reported are drilled core lengths. True widths are estimated to be approximately 80% of drilled lengths for the minus 45 to 50-degree holes in this news release, and approximately 60 to 70% for more steeply inclined holes.
 
Saddle South
All holes drilled to date at Saddle South in the 2018 program have intersected mineralization. Highlighted zones and subzones from the latest batch of drill results are tabulated in Table 1 below and are shown on the accompanying plan and section views. Complete data for all holes intersecting mineralization can be viewed under 'Downloads' on the GT Gold home page at
www.gtgoldcorp.ca
.
At Saddle South – West Side, the broad high-grade intercept reported for TTD079 correlates well with the high-value interval cut between 421.56 and 492.00 metres in hole TTD076 (
news, August 8, 2018
), which is approximately 125 metres in elevation vertically above the hole TTD079 intercept. The intercepts in holes TTD076 and TTD079 occur in an area where a broad zone of continuous mineralization appears to come to surface beneath thin glacial deposits. Furthermore, drilling has confirmed that the Saddle South - West Side mineralization is continuous along trend and down plunge from the main area of Saddle South drilling, which suggests excellent resource-generation potential. The numerous additional intercepts shown in Table 1 are beginning to define the extent of mineralized zones, and the Company's oriented core program has enabled reliable modelling and repeated successful targeting in new drilling.
At Saddle South - East Side, several remaining holes of the 18,000 metre program will focus on outlining, extending and connecting recent intersections reported in the Company's
August 8, 2018 news release
. This may include testing the up-dip portions of the high-grade intersection in TTD069 (32.65 g/t Au over 2.82 metres, within 40.02 metres of 4.67 g/t Au), located south and east of the core areas of Saddle South drilling.
Between now and season's end, the Company will continue drill-testing extensions to the most promising zones on both the east and west sides at Saddle South. Drilling will emphasize expansion of the strike and cross-strike extent of relatively shallow mineralization. West and along strike from the main area of 2017 drilling, the focus will be on the shallower, up-dip extension of the broad and deep zone of mineralization hosting the very high grades intersected in TTD079.
Recent sampling of talus fines in undrilled areas south and southwest of the rock glacier, and adjacent to the Saddle South zone, returned excellent values south-southwest of the mineralization intersected in TTD076 and TTD079. Six of eight samples taken across 240 metres in that area returned greater than 1 g/t Au, with a high of 40.3 g/t Au. In addition, on the east side of Saddle South, prospecting east of easternmost drill hole TTD089 along the Saddle South trend has revealed high-grade gold-mineralized subcrop which remains to be drill-tested. Together, these results show that extension of the Saddle South trend well beyond its currently defined length is probable.
Saddle North
Follow-up drilling is now well advanced at Saddle North. In preparation for this year's drilling, a second program of deeper-looking Induced Polarization (IP) ground geophysics was carried out over the target area early in the summer. Coupled with 2017's detailed airborne magnetic survey, the ground geophysical work confirmed that near-surface chargeability highs outlined in 2017 extend to depths of 500 metres or more. It also indicated considerable lateral continuity and general coincidence with airborne magnetic highs that run parallel to the Saddle North geochemical trend. Up to 5,000 metres of drilling has been budgeted for this part of the program and the initial results of drilling are expected shortly.
Table 1 – Saddle South 2018 Diamond Drill Program Assay Results
:
Significant intercepts for 9 NQ-diameter diamond drill holes are reported below. For hole locations, dips and azimuths, please refer to the accompanying drilling plan views and drill sections, as well as Table 2, below. Widths reported are drilled core lengths. True widths are estimated as approximately 80% of drilled lengths for the minus 45 to 50-degree holes reported in this news release, and approximately 50 to 70% for more steeply inclined holes.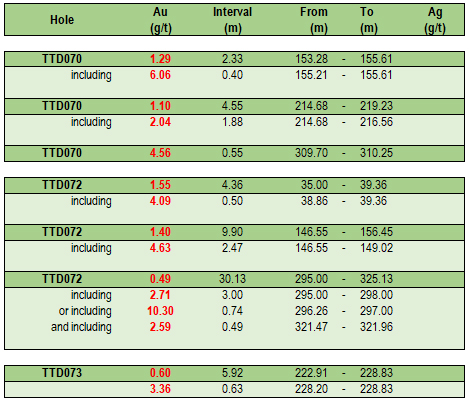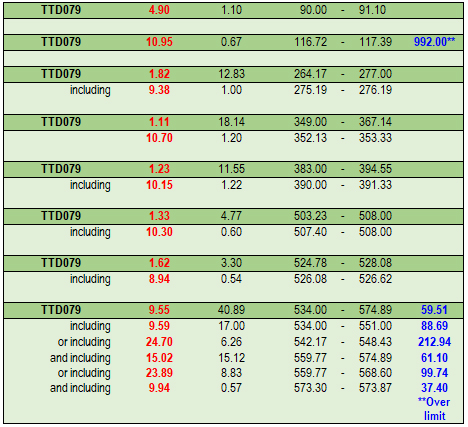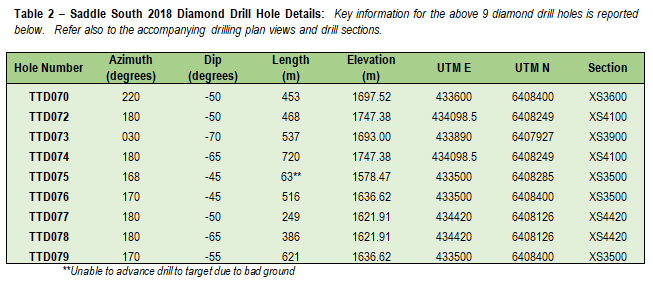 QA/QC Procedures
GT Gold has implemented a rigorous quality assurance / quality control (QA/QC) program to ensure best practices in sampling and analysis of diamond drill core, the details of which can be viewed on the Company's website at
http://www.gtgoldcorp.ca/projects/tatogga/
.
All assays are performed by ALS Canada Ltd., with sample preparation carried out at the ALS facility in Terrace, BC, and assays at the North Vancouver laboratory. Assay values are uncut. For gold, fire assays are performed as per ALS method Au-AA26 (0.01-100.00 g/t Au) using 50 grams of sample measured by atomic absorption (AA). Assays equal to or greater than 100 g/t Au are reanalyzed gravimetrically by method Au-GRA22. Silver and copper are analyzed by ALS method ME-MS61 with a 4-acid digestion followed by ICP-MS analysis.
Qualified Person
Charles J. Greig, M.Sc., P.Geo., Vice President, Exploration for GT Gold Corp. and a Qualified Person as defined by NI-43-101, has reviewed and approved the technical information in this press release.
The TSX Venture Exchange does not accept responsibility for the adequacy or accuracy of this release.
About GT Gold
GT Gold Corp. is focused on exploring for gold in the geologically fertile terrain of British Columbia's renowned Golden Triangle. The Company's flagship asset is the wholly-owned, 44,206-hectare Tatogga property, located near Iskut, BC, close to roads and grid power. The Company achieved, in 2017, a major new gold-silver discovery at its Saddle prospect, located up a gentle valley only 10 kilometres off highway 37. The Saddle discovery comprises two parts: a high-grade, near surface, epithermal gold-silver vein system at Saddle South and, close by at Saddle North, a largely covered, porphyry copper-gold-silver mineralized system. Geophysical surveying suggests that both may be large in scale, and early drill results suggest that Saddle North bears similarities to the nearby Red Chris deposit. The Saddle discovery was internationally recognized for its significance in November 2017 with the Mines and Money "Exploration Discovery Award". The Company has the backing of major institutions and key Canadian investors and is fully funded for the 18,000-metre program of expansion drilling now underway on this exciting new discovery.
For more information please contact:

GT Gold Corp.
Steve Burleton
President and Chief Executive Officer
Tel: (647) 256-6752
Charles J. Greig
Vice President, Exploration
Tel: (250) 492-2331
GT Gold Corp.
Amandip Singh
Director, Corporate Development
Tel: (647) 256-6754
Website:
www.gtgoldcorp.ca
Cautionary Statement Regarding Forward Looking Statements
This news release contains forward-looking statements and forward-looking information (together, "forward-looking statements") within the meaning of applicable securities laws. All statements, other than statements of historical facts, are forward-looking statements. Generally, forward-looking statements can be identified by the use of terminology such as "plans", "expects', "estimates", "intends", "anticipates", "believes" or variations of such words, or statements that certain actions, events or results "may", "could", "would", "might", "will be taken", "occur" or "be achieved". Forward-looking statements involve risks, uncertainties and other factors disclosed under the heading "Risk Factors" and elsewhere in the Company's filings with Canadian securities regulators, that could cause actual results, performance, prospects and opportunities to differ materially from those expressed or implied by such forward-looking statements. Although the Company believes that the assumptions and factors used in preparing these forward-looking statements are reasonable based upon the information currently available to management as of the date hereof, actual results and developments may differ materially from those contemplated by these statements. Readers are therefore cautioned not to place undue reliance on these statements, which only apply as of the date of this news release, and no assurance can be given that such events will occur in the disclosed times frames or at all. Except where required by applicable law, the Company disclaims any intention or obligation to update or revise any forward-looking statement, whether as a result of new information, future events or otherwise.
Saddle South 2018 Drilling Plan Views and Cross Sections
Two drilling plan views and five drill cross sections are provided below.
*click thumbnail to view*